Commercial Lighting & Electrical Services for New York Buildings
Although Alliance provides a range of professional electrical maintenance services such as electrical and lighting repairs, our greatest value lies in providing ongoing support to properties in determining how to most efficiently implement, operate, and sustain their energy systems. The experts at Alliance have a proven track record of helping businesses improve the overall energy efficiency and bottom lines of their facilities.
Alliance Building Services will work directly with you to ascertain and provide the electrical and lighting services that best meet your core organizational needs while at the same time ensuring an attractive and productive atmosphere for your clients and employees. All Alliance technicians are licensed New York commercial electricians, so you can rest assured you will receive the highest quality electrical work for your business.
About
About Alliance Electrical and Lighting Services
Partner with Alliance Building Services to increase productivity and reduce energy costs by ensuring your electrical and lighting systems are properly functioning, optimized, and maintained.
Our goal is to not just maintain your building's lighting, but to implement an electrical system that will create an atmosphere where your clients and employees feel safe, comfortable, and productive. The Alliance approach is a proactive approach in which assessing your business needs comes first. Only after we've determined what makes the most business sense to you, your clients and employees, do we examine and recommend systems and techniques your business can leverage to improve operations.
Services
Alliance Electrical Services
Alliance Building Services offers the following electrical service options for our clients:
Daily Ongoing Maintenance
In addition to the support of the full resources of Alliance Maintenance Services midtown corporate office and your Account Executive, Alliance Maintenance Services will provide you with a team of Field Supervisors and Managers who are at your service 24 hours a day, 365 days per year.
Photos (click to enlarge)
Design and Develop Electrical and Lighting Plans
Dedicated tradesmen ensure your entire building's interior and exterior lighting and electrical systems are always operational. By keeping these systems in tip-top shape, Current Lighting & Electric gives building management and tenant's confidence in their surroundings.
Photos (click to enlarge)
Infrared Thermal Imaging
Our engineering team has developed programs to maximize the profitability of various types of commercial real estate all over the United States. If you are interested in learning more give us a call.
Photos (click to enlarge)
Electrical Repairs
Our team has directed the operation of third party Facilities Management, Property Management and Construction Management departments of major facilities. Some of the team's specialties include Air and Water Balancing, Construction Management, Engineering Training, and Control System Diagnostics.
Photos (click to enlarge)
Lighting Repairs and Maintenance
Alliance often acts a boutique style company who works directly with building owners and REIT to create an Alliance like no other, ask us about it.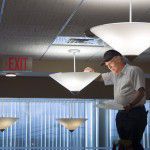 Photos (click to enlarge)
Green Initiatives – such as decreasing energy costs and consumption
We have been a pinoneer in using products that exceed most Green standards, like we said its in our founders blood. Give us a call to find out more.
Find a Job
New York Electrician Jobs with Alliance Building Services
Alliance Building Services is currently seeking qualified electricians to provide quality electrical and lighting services for our clients throughout the NY Metropolitan Area. Applications are being readily accepted and reviewed.
Search Electrician Jobs