Commercial Painting and Flooring Services for New York Businesses
Alliance Building Services takes pride in providing our clients with the very best in commercial painting and flooring services. We have delivered painting and flooring services to clients throughout New York, continually ensuring that we not only provide what is best for their specific business needs, but also what most enhances the building visually.
About
About Alliance Painting and Flooring Services
The finishes that cover the walls, ceilings and surfaces of a facility interior speak volumes about the people and businesses that occupy it. Freshly painted surfaces and appropriate flooring improve the atmosphere and quality of experience for everyone that enters a building.
The painting and flooring experts at Alliance Building Services have a proven track record of success and work across a broad range of businesses, big and small. Our professional painting and flooring staff is experienced, thorough and committed to professional courtesy, customer service, and client satisfaction.
Services
Alliance Painting & Flooring Services
Alliance Building Services offers the following painting and flooring options for our clients:
Faux Finishes and Venetian Plaster
The hand-tooled patterns that emerge from tinted paints and plasters are perfect accents in lobbies and reception areas. The specialty painters at Alliance create the finest faux stone, ragged, sponged and brushed-on finishes.
Photos (click to enlarge)
Controlled Spray Finishes
Controlled Spray technology offers Alliance clients more choices than ever before. Tinted metallic paints can be sprayed to achieve the gleam of polished metal on office trim, elevator doors, convector covers and handrails. Multicolored spec finishes provide an attractive accent on office and corridor walls. Textured spray finishes easily cover damage in traffic areas. Popcorn textures are the perfect spray-solution to hide unsightly raw concrete ceilings.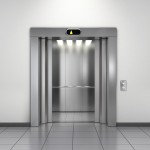 Photos (click to enlarge)
Revitalize
Most tile restoration products use glazes and brighteners to achieve results. Only Revitalize uses a natural enameled gloss to renew and refresh the condition of ceramic and stone floors. This special gloss finish is extremely durable, adding considerable life-expectancy to a tile's pristine shine. Compared to replacing these expensive floors when they become dull and worn. Revitalize is an easy, affordable investment in quality.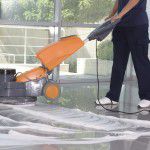 Photos (click to enlarge)
Find a Job
New York Painting and Flooring Jobs with Alliance Building Services
Start your career as a commercial painter or flooring contractor servicing New York businesses with Alliance Building Services. Work in the state you love and get the career you have always wanted as a professional painter or flooring contractor. Applications are always accepted.
Available Commercial Painter & Flooring Installation Jobs